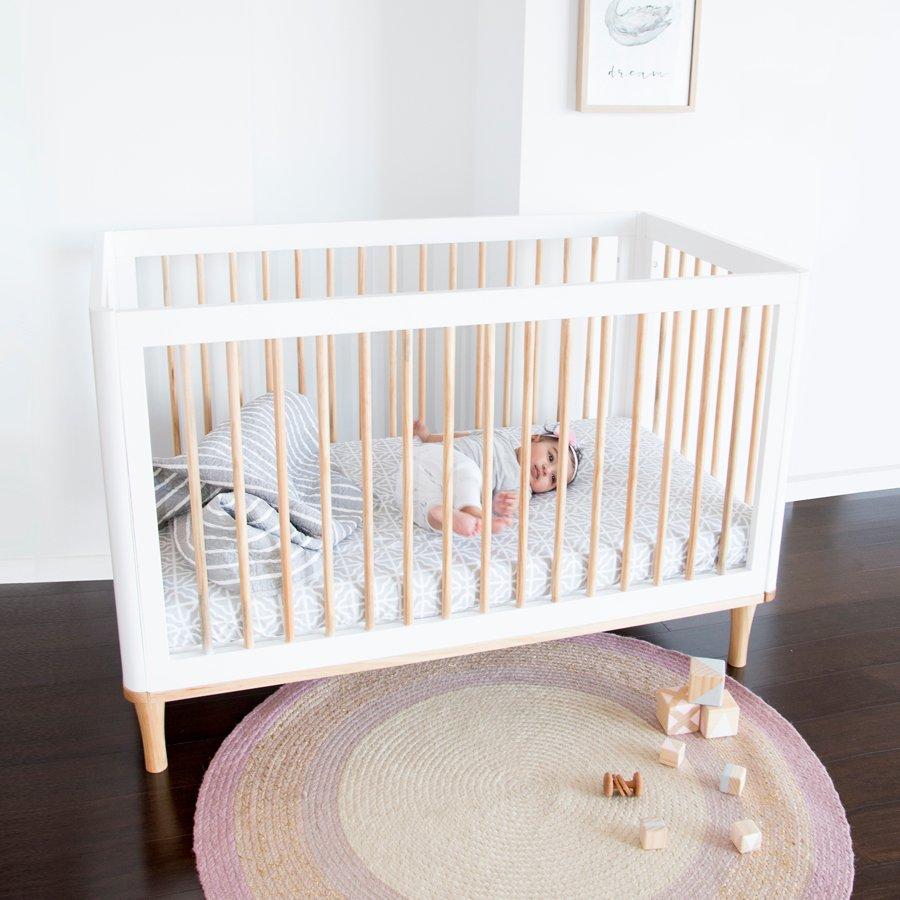 Parnell Baby Boutique's Tips For Making A Safe But Beautiful Nursery
Everything You'll Need For Your Newborn's Nursery
During the first few months of your baby's life, you'll both be spending a lot of time in the nursery, so make sure you have everything you need in one room.
A bassinet or a cot.

 

Your baby will need somewhere to sleep, and in the first few months, medical professionals recommend avoiding cosleeping. Instead, have a bassinet or crib set up with a comfortable baby cot mattress, a waterproof mattress cover, and a few fitted sheets. You won't need any flat sheets or blankets in the bassinet. If you're looking for cots online,

 

check out the range at Parnell Baby Boutique.
A change table.

 

Grab yourself a changing table that has plenty of drawers or a cupboard for storage. You'll also need to have a changing pad on the table and a few accessories close by;

Nappies (cloth or disposable, depending on your preference)
Pins, velcro, and waterproof covers for cloth diapers
Baby wipes
Washcloths
Diaper rash cream
A nappy bin to contain the smell of dirty diapers

A comfortable chair.

 

You'll be spending a fair bit of time in the nursery with baby, so it's important to have somewhere comfortable you can sit while nursing or reading with your little one.
A high chair.

 

Once baby is big enough to sit, they'll need a high chair for meal times. It's better to start thinking about it early, so you have plenty of time to research and find the best one.
A baby monitor.

 

If you want peace of mind while you're in different rooms of the house, you can invest in a baby monitor to keep an eye on bub. Some baby monitors play white noise or nature sounds to lull the little one off to sleep, but if yours doesn't have that function, consider placing a speaker in the room too.
A night light.

 

If you have to go to the baby's room in the middle of the night, a night light will provide a soft glow so you don't trip on anything. When your baby grows up a bit, a night light will help them feel safe in the dark, so they get a good night's sleep.
A mobile.

 

Placing a mobile over the crib provides your little one with valuable mental stimulation as they drift off to sleep. Choose something with bright, high-contrast colours as these are the only things your baby's eyes will see for the first few weeks.
Muslin wraps and baby blankets.

 

You'll need wraps and blankets if you want to swaddle your baby for bedtime, but remember, don't put any loose blankets in the crib.
Baby toys.

 

Even the smallest of babies need a few mentally stimulating toys to aid cognitive and gross motor development. Simple toys like rattles, teddies, and anything that makes interesting sounds is perfect. You can also stock up on some baby books with plenty of textures, sounds, and high-contrast colours. When choosing toys, red is the first colour your baby will see, so keep that in mind.
A playmat.

 

Find a soft, supportive playmat for baby's tummy time and playtime.
Things You Should Never Do When Setting Up Your Nursery
As we mentioned before, some things that look cute in a nursery may actually put your baby at risk of injury or worse. Here are a few things you should never do when setting up your nursery.
Don't buy antique bassinets or cots.

 

We get it; vintage nursery furniture looks adorable. However, these items were made in an older time before we understood the dangers and safety risks involved with these pieces of furniture. Modern safety standards were implemented around 2011, so don't buy a crib that was manufactured before then. If you're looking for a cute but safe cot in New Zealand, head to Parnell Baby Boutique.
Don't put blankets, toys, pillows, or bumper pads in the crib.

 

Once you've bought your baby cot online, make sure you set it up properly with your baby's safety in mind. The only thing that should be in the cot is a correctly-sized mattress with no gaps, a fitted sheet over the mattress, and your baby in a swaddle or sleeping bag. Anything else in the crib puts baby at risk of suffocating.
Never place decorations above the crib.

 

Mirrors, artwork, or shelves have the potential to fall into the cot and hurt the baby, so put them on a different wall and leave the space above the cot bare.
Forget about canopies.

 

Yes, they look dreamy in nursery photos, but canopies are a huge strangulation risk. There should be no loose fabric draped over or near the crib at all.
Some Pieces Of Nursery Inspo To Get You Started
Just because a nursery has to be safe for your baby, that doesn't mean the space has to be boring! We've found a handful of adorable nursery ideas to get your creative juices flowing.
Decal stickers or wallpaper.

 

If you feel that the room is too bare without artwork or decorations above the cot, try investing in decals or wallpaper instead. There are plenty of places online that sell affordable stick-on prints that won't damage your paint or walls.
Invest in a baby-safe little bookshelf.

 

Some bookshelves sit flush against the wall and hold picture books upright, so there's no chance baby will hit their head or hurt themselves when they start running around. If you're getting a freestanding shelf, make sure you secure it to the wall to prevent accidents.
Use wicker baskets as storage.

 

If you'd like a rustic look to the room, use wicker baskets to store their toys, blankets, and nappies rather than as a bassinet.
Splash out on colourful sheets and blankets to liven up the space.

 

If you want a colourful room for your little one, invest in some adorable sheets, blankets, and toys that fit the palette you're after. Just make sure you place them around the room safely and keep them out of the cot.
If You're Looking For Baby Nursery Products, Browse The Range At Parnell Baby Boutique
Founded in 2013, Parnell Baby Boutique offers a unique blend of designer baby and kids brands sourced both locally and internationally. We understand that kids clothing needs to find the balance between fashionable, durable, and comfortable, so we aim to stock brands that understand how kids move and play so you can buy the most adorable, high-quality kids fashion available. So if you're looking for baby nursery products, head to our online store and browse the range today!